BASIC INFO
Product Description:
Wheel hub/brake hub iron casting parts for Automobile truck trailer
Application: Automobile truck trailer brake system parts
Material:QT450 iron casting parts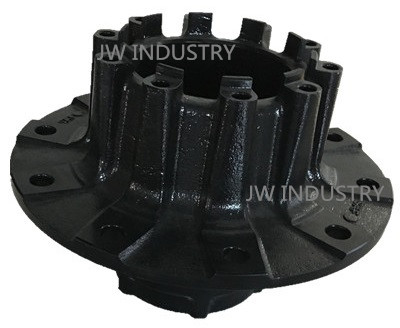 Casting Process: Resin Sand Casting and Clay Sand Casting
Standard: ASTM, AISI, DIN, BS and JIS
Max Casting Size: 1200mm
Casting Weight: 0.2~1000Kg
Dimension Tolerance: CT5
Productivity: 200000 tons per year
As a world class manufacturer & supplier of steel casting and iron casting, JIEWAN is one of the large-scale professional ferrous sand casting prodcution base in China, consisting of R&D, steel and Ductile iron casting&CNC machining. . Annually more than 300000 tons Precision casting parts are exported to markets in Europe,America and Japan. OEM casting service available according to customers requirements.
Our other Wheel hub, spider hub/wheel spider used for Europen and American Trailer are well exported to the worldwide market every month, welcome your inquiry with your drawings or OEM NO.



Other Products:
1. Auto Spare Parts
Towing plate, Brake drum, Wheel hub, Japan gear box,
Spring seat, Bearing block, Clutch shell, Housing.
2. Spare Parts of Engineering Machinery / Mining Machinery
Connector, Guide wheel, Differential mechanism, Diving wheel, Gear box,
Duplex filter, Bracket, Shaft bearing, Axle ring, Supporting set, Major planet carrier.
3. Railway Rolling Stock Spare Parts
Rear cover, Flange plate, Motor shell, Axle box, Bearing bracket.
4. Spare Parts for Pump & Valve
Valve body, Base pipe-bending, Frame plate, Shaft block, shell.